About Liberro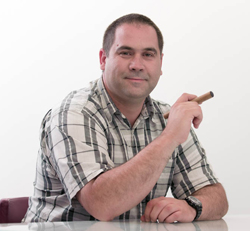 Inspiration behind the Liberro brand
Liberro founder, Simon Christou, was once a devoted tobacco smoker and despite the fears he had for the effect his habit had on his health, he failed to quit time and time again. "I simply missed smoking too much!" he explains. But in 2008 he made a discovery that changed his life forever! "I was introduced to an e-cigarette and was immediately blown away by its ability to recreate the smoking experience I enjoy, and satisfy my nicotine desire, while avoiding all the nasties associated with tobacco!"

Simon was determined to help other smokers who were seeking a less harmful alternative, so he took one huge plunge and started his very own vaping business! The success of Liberro has continued to excel, and today he is proud to claim hundreds of thousands of satisfied customers.
Passionate about quality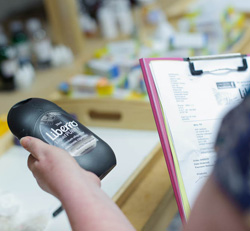 A key factor of the company´s phenomenal achievements is the dedication to quality. Liberro was the first e-cig company to receive quality accreditation ISO9001, and Simon went on to co-found the Electronic Cigarette Industry Trade Association. ECITA encourages all e-cig suppliers and retailers to join forces and assure the government that their products are regulated under relevant legislation, which basically means that when you purchase from an ECITA member you are guaranteed the highest possible quality in terms of product, customer service and online security.

"Our commitment to excellent service and product quality is recognised time and time again by the daily positive emails we receive, and the wonderful testimonials our clients post on both the Liberro Facebook and independent reviews site TrustPilot" explains Simon.

Liberro has a focus on quality and we are happy to announce that our exclusive Purity e-liquid is fully TPD compliant. "We are constantly striving to create and find new innovative and reliable products that will make vaping even more satisfying for our clients."

"After 51 years (yes I started very young) of being a heavy smoker I have not touched a ciggie since January 25th 2011. Some of my friends have tried other e-cigs and they have not been helped at all, but one puff on my Liberro Realis and they are very impressed.
Bob Smith, Aberdeen

"If you are thinking of switching out tobacco I cannot recommend Liberro too highly. A first class product with first class delivery and support."
Jeannie Action, Nottinghamshire

"A nice strong taste and lots of vapour, as well as being so easy to use. I am so happy with this (Liberro Realis), and will recommend Liberro to everyone who asks about e-cigs. A happy and now loyal customer. Cheers!"
Luke Scofield, Hampshire

Caring, approachable and friendly team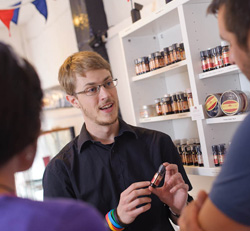 And 2012 saw the first Liberro shop open its doors in Buntingford. "We were regularly welcoming visitors to our head office and distribution centre in Buntingford," explains Simon. "So it seemed a natural progression to open our shop in this area.

In recent years the face-to-face retail experience is one that Liberro promotes, it will always remain a key focus and is backed up by a dedicated telephone and online customer service team. If you have any queries, suggestions or feedback you are guaranteed a warm welcome from the team at any time from 9am - 5pm on Monday through to Friday.
Speak to your Liberro Customer Service Team on 01763 272774
There are so many personal, social, economical, environmental and practical advantages to switching from tobacco smoking to vaping and Liberro are committed to continuing to offer excellent products, service and industry expertise and leadership - all working towards their long-term vision to see an electronic cigarette in every smoker´s pocket´.

We welcome you to join the revolution and start benefiting now! Your body, wallet, environment, family and friends will thank you!!